Blue.box is recommended for advanced users and/or those familiar with Freeswitch. Currently, the project does not appear to be in active development.
What is Blue.box?
Blue.box is a modular, highly scalable, object-oriented, multi-platform, multi-OS web interface for managing FreeSWITCH.
It was created by the developer of the FreeSWITCH mod_nibblebill module. The platform allows management of the entire FreeSWITCH system via a simple, friendly GUI and requires no knowledge of the underlying XML configuration structures. Great care has been taken to allow for future expansion via modules and plug-ins.  It supports multi-tenancy, skinning, and is completely open-source. It can be used with database and file replication to scale up to thousands of registered devices and simultaneous phone calls.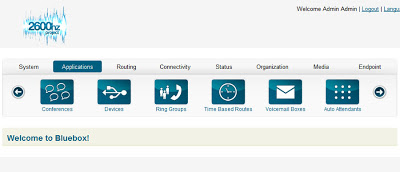 Note that despite the support of multiple switching engines, the project has a heavy focus on the FreeSWITCH project and provides FreeSWITCH-only modules to support advanced functionality in FreeSWITCH. It originally developed from FreePBXv3.