What is Kamailio / Siremis?
Kamailio™ (former OpenSER) is an Open Source SIP Server released under GPL, able to handle thousands of call setups per second. Among features: asynchronous TCP, UDP and SCTP, secure communication via TLS for VoIP (voice, video); WebSocket support for WebRTC; IPv4 and IPv6; SIMPLE instant messaging and presence with embedded XCAP server and MSRP relay; IMS extensions; ENUM; DID and least cost routing; load balancing; routing fail-over; accounting, authentication and authorization; support for many backend systems such as MySQL, Postgres, Oracle, Radius, LDAP, Redis, Cassandra; XMLRPC control interface, SNMP monitoring. It can be used to build large VoIP servicing platforms or to scale up SIP-to-PSTN gateways, PBX systems or media servers like Asterisk™, FreeSWITCH™ or SEMS.

Siremis is a web management interface for Kamailio allowing to provision user profiles, routing rules, view accounting, registered phones, display charts, communicate with SIP server via xmlrpc, a.s.o.
includes:

Example Scenario:
REF: http://kb.asipto.com/asterisk:realtime:kamailio-4.0.x-asterisk-11.3.0-astdb
Registration
Kamailio does authentication for registration. If successful, it notifies Asterisk with a new REGISTER that the phone is available at its IP.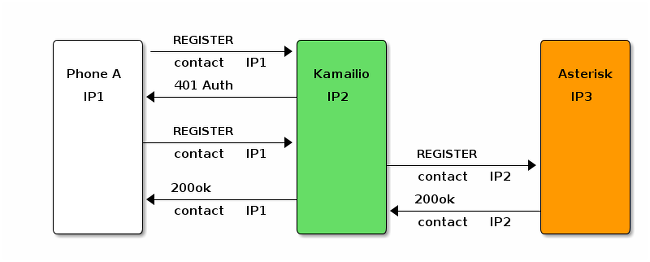 Call Initiation
Call authentication is handled by Kamailio. When a new calls arrives and it is authenticated, Kamailio forwards it to Asterisk. If destination number is online, Asterisk will send the call back to Kamailio since the contact of destination is Kamailio IP. Then Kamailio will do location lookup and send to destination phone IP.