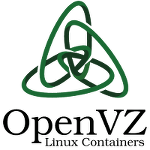 OpenVZ Virtualization
Secure, isolated Linux Containers
OpenVZ is container-based virtualization for Linux. OpenVZ creates multiple secure, isolated Linux containers (otherwise known as VEs or VPSs) on a single physical server enabling better server utilization and ensuring that applications do not conflict. Each container performs and executes exactly like a stand-alone server; a container can be rebooted independently and have root access, users, IP addresses, memory, processes, files, applications, system libraries and configuration files.
Topology
Shared Kernel, Low Overhead, near bare-metal performance
Virtualization is accomplished through operating system-level virtualization technology where the host kernel is shared amongst guest VPSs.  This is similar to the standard chroot or BSD Jail, but with security and resource sharing enhancements. Overall efficiency is nearly that of a dedicated machine, with negligible overhead introduced due to the lack of emulation or paravirtualization.